Money is one of those subjects that covers a whole spectrum of conversation; from an ingenious discovery of convenience to a star player in some forms of human expression.
​Putting the function of money in a world of commodities and the pursuit of happiness, we decided to look at this subject and focus on the form and how this daily piece of paper carries with it a wealth of identity and expression.
​The collection comprises of 3 prints of denominations from different periods between 1979 – 2007. Each with their own story to tell about the local situation, mindset and ambitions of the islands at that particular moment in time..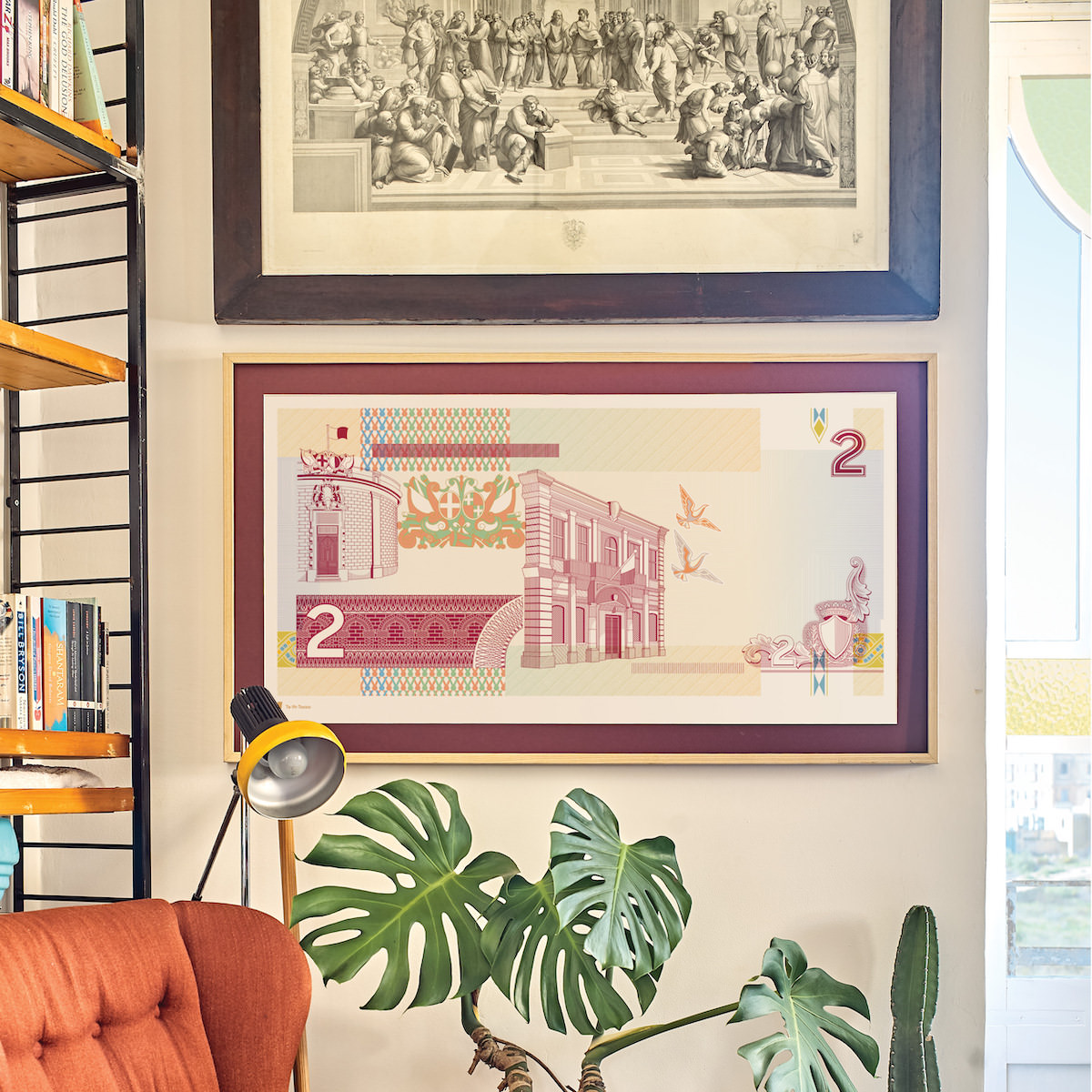 The story starts in 1979, with the departure of the last British forces from Malta, the 3rd series of Maltese Lira was put into circulation and was issued to mark Malta's new status of neutrality and the termination of the presence of foreign military facilities and the LM10 features the Malta drydocks, a staple in the new Independent Maltese economy for many years.

​When looking at the details of this series one will notice a new circular emblem of Malta that replaced the national armorial bearings as well as the inclusion of local flora and fauna on the notes as well as a statue by Antonio Sciortino, symbolising Culture.

​The series portrays Malta as an industrial island ready to attract foreign investment. On the front of this series, three themes were selected to showcase the island's history, culture and justice.
​In 1986 the 4th Series was put into circulation, and a more refined representation of the island is split across all denominations. In this period, one can notice the island life, Malta as a tourist destination and local crafts which are still around us today.

​The series was somewhat controversial, and featured a portrayal of the then President of the Republic, Agatha Barbara on the front of each denomination. As well as for the first time in paper currency in Malta, the omission of the word 'Pound.' The denominations also feature a dove holding an olive branch and a spiral motif from the neolithic Tarxien temples.
The Lm5 shows a beautiful scene in Mellieha Bay, featuring elements of tourism as well as the local crafts such as lacemaking and fishing.

On this denomination, we also see a blend of two important aspects: the serious issue of money, coupled with expression, beauty and joy of leisure time on the islands.

In 1989 with the 25th anniversary of our independence in mind, the 5th series celebrates key points in our nation's history that lead to Malta becoming an island state. As the smallest denomination in the series the LM2 makes reference to some early milestones in this long journey when Maltese earned their Magna Carta in 1428.

The note features an allegorical figure of Melita, holding a rudder representing a country in control of its own destiny as well as the emblem of the United Nations and doves as a symbol of Malta's commitment to international peace. The note also features the Banka Guratali in Mdina & Gozo as some of the earliest administrative councils of the city.

The high level of symbolism and storytelling that can be found in a country's currency is sometimes overlooked, however the curation of the visual messages placed on the individual denominations and different series put into circulation hold a lot of the vision and direction that the country was experiencing during the respective time.

The studio would like to express its heartfelt thanks to De La Rue Ltd., The Central Bank, Dfab, Michael Grech & Mariana Spiteri, for their help in researching, studying, experimenting and communicating this collection of prints.

Behance Project: behance.net/gallery/87889463/Maltese-Lira-Series
Full Collection: shop.tefittazza.com/collections/maltese-lira-series